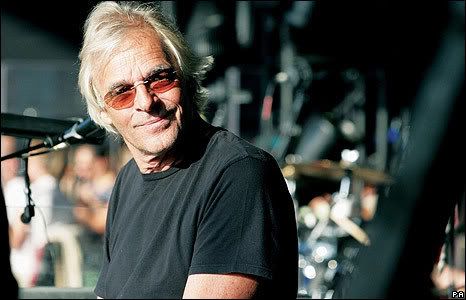 photo BBC News
I remember the first time I listened to
The Wall
all the way through... I had picked the cassette up at Camelot Music to play in my Walkman (old skool yellow Sports model) while on a flight from Florida to Moscow in 1986. I remember thinking I was so cool to be listening to this
old
music while everyone else was listening to Mr. Mister and Lionel Richie. Hell, I was in 7th grade. Maybe it was the fact that I would soon be staying in the country that was our sworn enemy, but it was a seminal moment for me. It started opening my eyes to a world outside of the
World's Most Famous Beach
. As time went on I became a huge fan of Pink Floyd... perhaps the
only
one that never smoked pot. Over time I stopped listening to Floyd on a daily basis, but I have a playlist on my iPod for when I'm feeling nostalgic.
So the news yesterday of Pink Floyd keyboardist, Richard Wright's death hit a sensitive spot. Mr. Wright died on Monday of cancer. I remember watching a documentary on Syd Barrett last year and
Shine on You Crazy Diamond
came on. Fletch sat with me and listened and while it didn't exactly make him a fan, I could tell he was
thinking
about it. He's an introvert and I'm sure there will come a day when that song will mean as much to him as it does to me.
David Gilmore had this to say:
He was gentle, unassuming and private but his soulful voice and playing were vital, magical components of our most recognised Pink Floyd sound. Like Rick, I don't find it easy to express my feelings in words, but I loved him and will miss him enormously. I have never played with anyone quite like him.
Shine on, Rick...