A couple of weeks ago I mentioned seeing my second favorite car... The
Jaguar Mk II sedan
.
So today I'm browsing through eBay looking at cars I can't afford to either buy or maintain and I run across this... this...
clusterfuck
. There's no other word to describe it.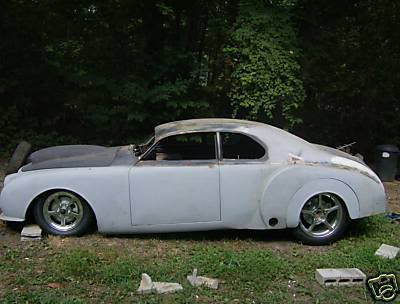 Here's the description:
Dare to be different with this one
!!!!!! Car started life as a 4 door 1962 Jaguar Mk2. The car is chopped 5 1/2 inches and is mated to an s-10 chassis. This car has a fresh 355 chevy motor and full race t-350 transmission.The motor is an 010 block w/4 bolt main, 58cc heads,noisey gears, scat crank,blue racer cam 284 grind. Roller rockers,750 holly,edlebrock intake and a 750 holley, s-10 v8 conversion headers,new aluminum radiator and lincoln mk3 cooling fan and 0 miles(has been test run) chassis is c notched,and air bagged with fb system, has 4 wheel disc with zinc plated slotted and drilled rotors, upper tubular a arms. Rear end is from 2000 blazer and has new posi unit and 373 gears.Wheels are new 18" Corvette on the back and new 15" Mickey Thompson Skinnies on the front.Car comes with
lots of parts
, if serious I can e-mail a list to you. I have owned this car for approx 14 years and originally bought it in Arizona which is where it is titled. It's current home is in North Carolina. The hard work is done! Body work needs finishing,interior needs finishing. Let's just say it is a work in progress. The drivetrain is complete as is the exhaust system, but must be wired(new harness included) and plumbed to run and drive. Every one that sees this car freaks out and can't figure out what it is...old ford,mercury...what??? This car will truely attract attention and I don't believe there is another like it. Being a project it is sold as-is where is. Hate to see it go, new business and space require it does.. You finish the way you want, Rat rod, Hot rod, Custom.......Vehicle is listed locally, and seller reserves the right to end auction early if sold.
1962 Jaguar Mk 11 on eBay
.
I can't believe someone did this to a poor defenseless Jag.